Year of an African Farmer – Growing
Farming is central to lives and livelihoods in Kenya, but lack of advanced technology and tools along with pest infestations and often-harsh weather conditions combine to make growing food a very difficult task. Kenyan farmers face challenges every day, including many factors that are out of their control.
The average growing season in Kenya is around four months. Imagine – you are a Kenyan farmer during the growing season. You plant your crop to provide food for you and your family in the months to come, and during the growing season you have little control over the outcome. Making good choices can make the difference between an ample food supply or needing to seek additional work to feed your family.
One of the biggest decisions you make prior to the growing season is the seed you are going to plant. If you are fortunate enough to have the option to purchase treated seeds, you increase the odds of strong, healthy plants. Treated seeds are coated with fungicides to protect them from fungus and diseases in the ground that can kill plants before they emerge.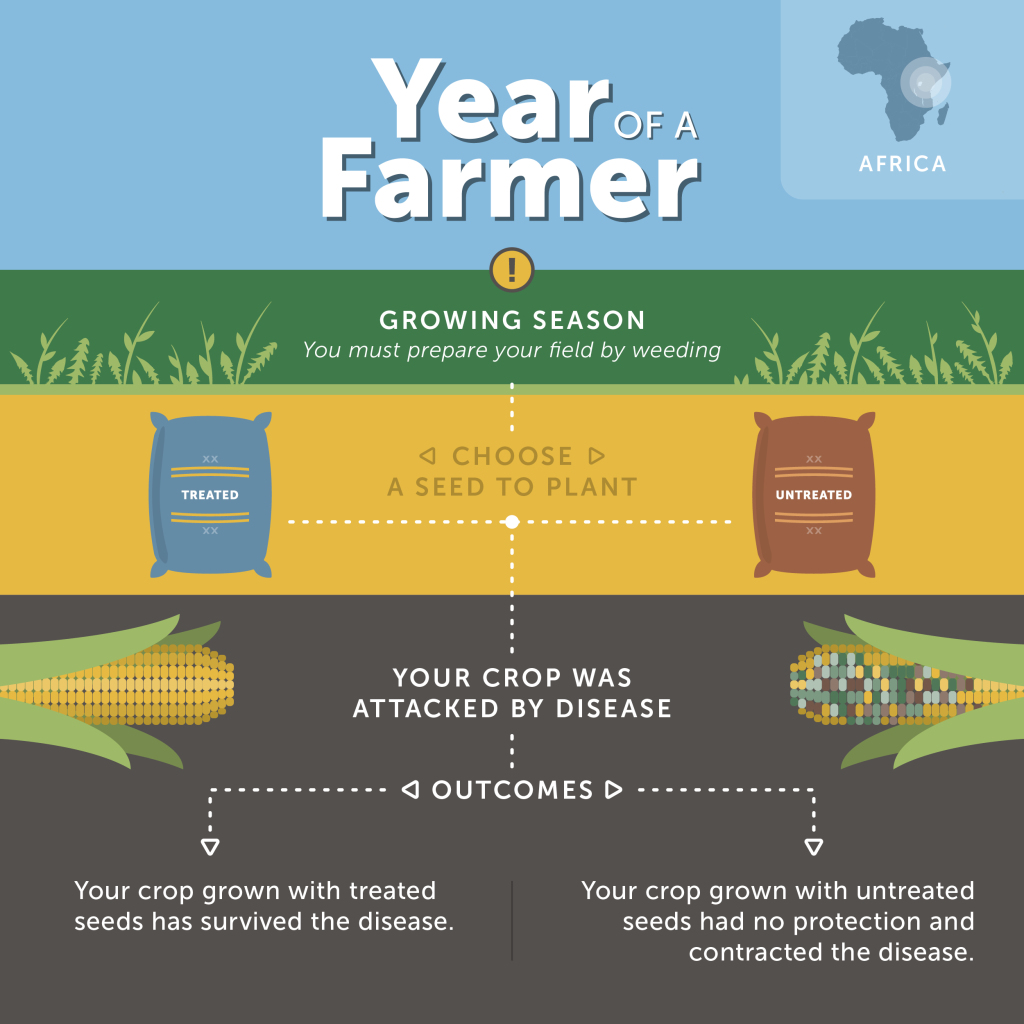 Seeds that emerge quickly are able to establish a uniform plant stand that is more likely to withstand pests and harsh weather conditions throughout the season. Although treated seeds are often more expensive and not all farmers think they can afford this protection, it's probably one of the best investments they can make.
At the beginning of the growing season you are out in the field every day, weeding. One of the few things you can control is removing the weeds. Day after day is spent in your 2-acre field, pulling or hoeing the weeds so your crop can grow healthy.
Once your crop makes it out of the ground, there is little you can do to protect it. You have very limited access to pesticides and herbicides. You feel a sense of helplessness, there is little you can do. The size of your harvest will largely depend on the quality of your seed and the weather.
Water Efficient Maize for Africa (WEMA) was started in 2008 and is one of many public-private partnerships working to provide farmers in Africa with more choices and control over their crops. WEMA is working to put better seeds into the market – seeds that help protect against drought, diseases, pests and other variables. The new hybrid maize seeds are available through multiple seed companies at prices competitive with the current hybrid maize seed market. Giving farmers more choices and control over their crops will allow them to farm more successfully and efficiently.
To learn more about our sustainability efforts check out the 2016 Monsanto Sustainability Report.
Additional Articles