Monsanto's CEO Talks about Modern Agriculture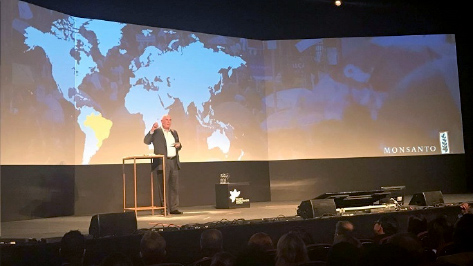 Monsanto Chairman and CEO, Hugh Grant, visited Brazil this past week. In addition to having an extensive institutional agenda, the executive led a panel in the first edition of GAF Talks. Held by the Global Agribusiness Forum, this year's GAF Talks opened the discussions for the 2018 edition of the GAF, the most influential event in the world of agribusiness, with debates and lectures of agents from the public and private sectors. In his presentation on March 29th, Grant was enthusiastic about the future possibilities of agriculture, emphasizing the importance of the participation of technology in the process.
"I believe that data science will have a huge impact on the future of agriculture"
"Data Science will change agriculture" Grant said in his talk. In his opinion, modernizing agriculture and developing new techniques to increase productivity and decrease the use of natural resources is necessary for survival in the coming years. To demonstrate this, the executive used a metaphor of the planet portrayed as an apple. He divided it into 32 parts, saying that all the world's food production could fit into just one of these parts. "In the future, it will be necessary to double the amount of food produced in this same space, to meet the demand of future generations. The question is how to do that" he said.
"I believe that data science will have a huge impact on the future of agriculture" he said, defending the collaboration of companies so that Data, Chemistry and Agriculture walk together and can be developed more efficiently. "A higher level of investment is going to lead to an acceleration of innovation, enabling us to get to a sustainable agriculture faster," Grant said, mentioning the example of the exact use of nitrogen – both in time and quantity – to advocate for the accurate use of chemistry in the process." Something that took 10 years to be developed in the past, today will be done simultaneously with other things."
Are you interested in seeing how the event was? Click here to access the complete video. Hugh Grant's talk starts at 1:57:00
Additional Articles