American Agricultural Innovation at The Smithsonian
As the global population continues to grow and food demand expands even faster, it is crucial that society understands the central role agricultural innovation plays in our future. It is important that people appreciate what farmers already have accomplished in meeting the challenges placed on the food supply, and what challenges still remain.
That's why I'm so pleased that the Smithsonian National Museum of American History has chosen to highlight agricultural innovation in a new exhibition, called "American Enterprise," opening July 1. And, it is why I am particularly excited that among the artifacts the museum will use to tell that story are several donated by Monsanto.
These artifacts include examples of some of Monsanto's early innovations in agriculture, including a souvenir from 1996 connected to Roundup Ready ® soybeans; a photograph of the planting of the first genetically modified crop field trials in Jerseyville, Ill., in 1987; and a photograph of me in 1983 with the petunias. Today, genetically modified crops have become the most rapidly adopted new technology in agriculture – planted on more that 400 million acres in nearly 30 countries.
The exhibition consists of an 8,000-square-foot gallery containing more than 600 objects focused on the role of business and innovation from the mid-1700s to the present, along with associated biographies of inventors and innovators. Monsanto is proud to support this effort because the story it tells is so important. Just take a look at modern America. Agricultural innovation has transformed this country from an agrarian society to an urban one. It's enabled farmers to produce far more on the same amount of land with less labor, bringing down the cost of a balanced meal to families across the country, making nutritious food more accessible to everyone. American agriculture has accomplished all of this while helping farmers use fewer resources like water and soil, reducing farming's impact on the environment.
The challenge we all face today is to keep these trends in motion. It's a collective effort. Farmers will continue to do their part, but only if they're allowed to use the most effective and innovative tools to nourish our growing world.
Treat the family to an educational visit this summer at the Smithsonian in Washington, D.C. You'll find the exhibit in the Mars Hall of American Business in the museum's new Innovation Wing on the building's first floor. I know you'll enjoy it! And, you're likely to chuckle when you see my circa 1983 photo.
For more information, please visit the Smithsonian's website.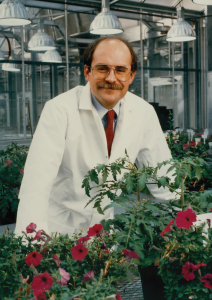 Additional Articles